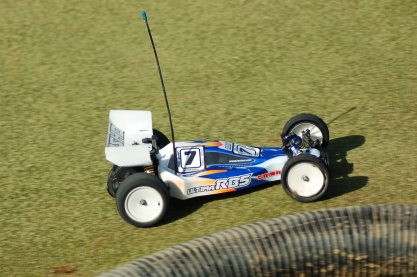 Lørdag stod på Newcomer (begyndere) og 2WD og det var et fantastisk syn at se så mange drenge komme med RTR biler lige fra de billigste Tamiya biler til Associated og Losi og der køres både med 2WD og Trucks . Reglerne virkede enkelte 13.5 motor eller svagere og der må kun bruges de samme dæk hele dagen.

Banen var endnu ikke tørret helt op efter fredagens torden vejr og i nattens løb var der også faldet lidt regn så banen var våd til første kvalifikationsheat og der blev afprøvet alverdens muligheder, bl.a. Schumacher MiniPins, Proline HoleShots og Ballistic mini pins. Holeshots og Ballistic var det mest fortrukne og ballistic var nok en anelse hurtigere.
Banen forblev våd igennem de tre første kvalifikationsheat og til fjerde runde var banen næsten tørret helt op og de fleste var på Schumacher mini pins og det også i den runde de fleste satte deres hurtigste tid, men round by round systemet havde det ikke nogen betydning.

Ikke overraskende var Jörn Neumann hurtigst i kvalifikationen og kunne starte fra pole position.



Saturday was Newcomers (beginners) and 2WD in action and it was a fantastic to see so many young guys come up with RTR cars from the cheapest Tamiya cars for Associated and Losi and both buggies and Trucks was allowed to use in this class. The rules seemed simple with a 13.5T motor or weaker and there may only be used the same set of tires all day.

The track had not dried up after Friday's thunderstorm and overnight there was also dropped little rain so the track was wet for the first qualifying heat and many tire opportunities was tested in the first round, including Schumacher MiniPins, Proline Hole Shots and Ballistic mini pins. Hole Shots and Ballistic was the most preferred and ballistic was probably a bit faster.
The track remained wet throughout the first three qualifying rounds and in the fourth round the track was almost dried up and most drivers was on Schumacher mini pins and this round most drivers put their fastest time, but with round by round the system, it had no significance.

Not surprisingly Jörn Neumann was fastest in qualifying and start from pole position.
Beginner & 2wd Overall Qualification Results
Beginner & 2wd Overall Final Results