Nordic Championship 1:10 Electric Off-Road - Skarpnäck, Stockholm Sweden - Day 2 - 2WD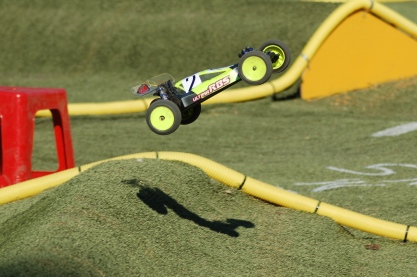 Saturday 2WD - Day 2
Ulrich was in heat 4 out of 7 and Christer had to run in heat 6 The day started at 8.00 with 2 rounds of controlled Practice followed by 4 qualifying rounds, 2 finals and A final was run 3 times.
For Managers meeting between practice and qualifying, we were made aware by race referee Dallas, that according to EFRA rules it is not allow to cut and paste the tires, which Block Head tires requires to be used, Denmark and Finland were asked whether we would accept that Block Head was used. We accepted that.
First Qualifying rounds ending with Ulrich as no. 24 and Christer in 12th place - ok start, the second round is even better Ulrich 15 and Christer 8 now B finals was secured for Christer and he tried the next round with a softer front springs and a fairly used Wide Rib, but ended up switching back to Staggerrib during the 3 minutes of warn up laps, not the best setup with some 5mm lower tires. Ulrich made a 24th place again and Christer a 20th. There was 2 rounds best rounds that counts out of 4. After the third round Ulrich was number 20 and Christer 11 the boring BQ.
Back to blue springs and Schumacher staggerrib, as we knew and made only small adjustments on the cars, and no wear on tires.
In round 4 ended Ulrich 15 and Christer 8 again, overall, Ulrich should start 5th in B-final and Christer had just pushed the Swedish Losi importer who deceived us with tires out of the A-final so he could start BQ and Christer was last man in A.

2WD homemade projects
We found these two homemade projects in the pit, the first one was Associated B44 with a B4 fronted. On track the car seems to have a lot of steering and Michael Nilsson was second fastest in qualifying with his homemade project.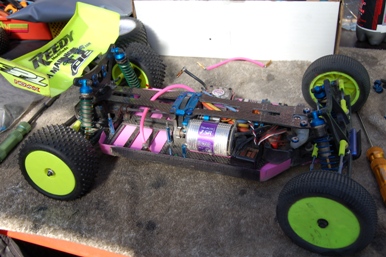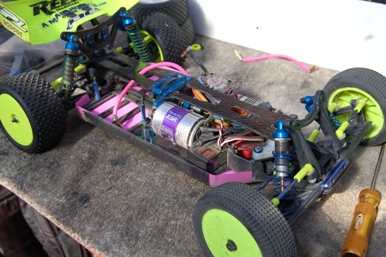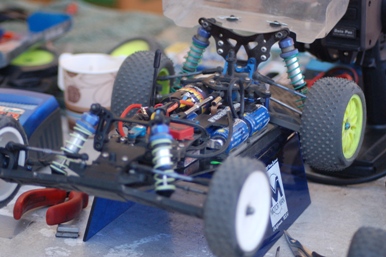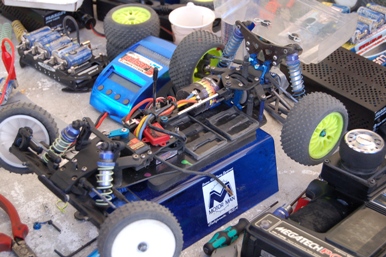 Second car we found was a Scratch built Kyosho with a ZX5 rear end and RB5 frontend mounted on a chassis plate with 5 cell layout.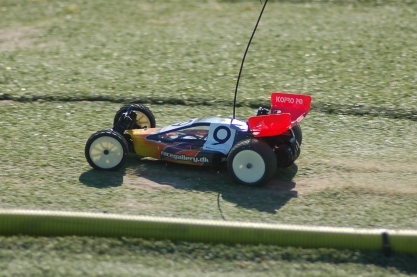 2WD Finals
First rounds of A-finals began but was not good Christer had too many nerves and reversed slightly between 9 and 10 spot, the end of a bad finale was the No. 9 and 10 was called complete by the last round, so Christer did not cross the finish line thanks to yet another mistake by counter staff.
Ulrich's first final was a little up and down, he was in 3-4 position and then down to 9-10 spot and ended 7th.
A-2 final was better nerves were gone and there was run more freely, it could not be more than a 7th position for Christer but the speed was back again.
B-2 final and final round for Ulrich was actually a little better up and down again, and was in 6th position right up until the last turn before the strait, where driver in 7th position was hitting Ulrichs car on the rear and another car was overtaking them, Ulrich ending 8th but a punishment was giving to the driver who hit Ulrich, so Ulrich rejoin 7th position and ended as 18th overall.
A final 3 Christer doing one of the very famous "Christer-starts" and waiting for 5 cars run together in turn 4, Marshall was busy and Christer could overtake the hole gang, some stupid mistakes where the car lands on top of the barriers send Christer down in the field again but with a little help from other drivers that also made mistakes Christer are finishing with an acceptable 6th place in this round and total for 9th place out of 63 participants.

Nordic Championship 2WD results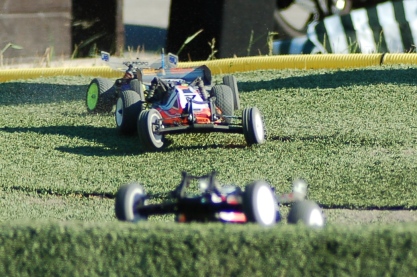 Lørdag 2WD - Dag 2
Ulrich fik tildelt heat 4 af 7 og Christer skulle køre i heat 6. Dagen startede kl. 8 med 2 runder Træning efterfulgt af 4 kval, 2 finaler til alle og 3 til A-finalen.
Til Managers meeting mellem træning og kval, blev vi gjort opmærksom af Dallas at ifølge EFRA regler er det ikke tilladt at klippe og klistre dæk, hvilket Blokhead dækket kræver for at kunne bruges, Danmark og Finland blev spurgt om vi ville acceptere at Blockhead blev brugt.
Flinke som vi er accepterede vi.
Første kval runder slutter med Ulrich nr. 24 og Christer 12 ok start, anden runde går endnu bedre Ulrich 15 og Christer 8 så nu var B finalen sikret for Christer så der blev forsøgt med blødere front fjedre og nogle godt brugte Wide Rib, som dog blev skiftede til Stagger i løbet af de 3 minutters opvarmning, ikke det bedste setup med nogle 5mm lavere dæk. Ulrich sluttede ringen 24 igen og Christer 20. Der var 2 runder tællende ud af de 4 her efter tredje runde lå Ulrich samlede 20 og Christer nr. 11 den kedelige BQ.
Tilbage til blå fjedre og stagger, som jeg kendte ellers var der kun små justeringer på bilerne, og ingen slid på dækkene.
4 runde sluttede Ulrich 15 og Christer 8 igen, samlede blev det til at Ulrich skulle starte 5 i B-finalen og Christer fik lige skubbet den svenske Losi importør der havde snydt os med dæk, ud af A-final så han kunne starte BQ og Christer sidste mand i A.

2WD homemade projekter
Vi fandt disse to hjemmelavede projekter i pittin, hvoraf den første var en Associated B44 med en B4 forende. På banen så bilen ud til at have en masse styring og Michael Nilsson formåede at kvalificere sig som anden hurtigste med hans hjemmelavede projekt.
Den anden bil vi fandt var samlet af hjemmebyggede dele som var samlet med en Kyosho ZX5 bagenden og RB5 frontend monteret på en chassisplade med 5 celle layout. (se ovenstående billeder)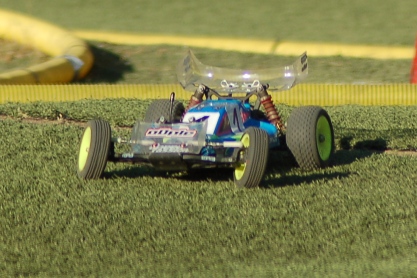 2WD Finaler
Første runder A-finalen lagde ud men gik ikke godt Christer havde alt for mange nerver på og byttede lidt mellem 9 og 10 pladsen, slutningen på en dårlig finale blev at nr. 9 og 10 blev kaldt færdig inden den sidste runde, så Christer nåde aldrig i mål, tak for endnu en fejl fra tæller personalet.
Ulrich's første finale gik lidt op og ned, han var oppe på 3-4 pladsen og nede på 9-10 pladsen og sluttede 7.
A-finale 2 gik noget bedre nerverne var væk og der blev kørt mere frit, det kunne desværre ikke blive til mere end en 7 plads for Christer, men farten var der igen.
B-finale 2 og sidste runde for Ulrich gik egentlig bedre lidt op og ned igen, og en 6 plads helt frem til sidste sving inden langsiden og mål, hvor nr. 7 klipper bagenden og endnu en bil kommer forbi, Ulrich slutter 8 efterfølgende får nr. 7 retfærdigvis 10sek. Straf og Ulrich slutter igen 7. Hvilket desværre kun giver en samlede 18 plads.
A-finale 3 Christer laver en af de nok så kendte "Christer" starter og venter på at 5 biler køre sammen i sving 4 påsætteren smider sig oven på bunken af biler og Christer køre forbi hele banden, nogle dumme fejl hvor bilen lander oven på banderne sender Christer længere ned i rækkerne, hver gang han er pressede er heldet dog med ham og den bagved liggende laver en fejl og der bliver sluttede af med en acceptabel 6 plads, samlet bliver til dog kun til en 9 plads ud af 63 deltagere.

Nordic Championship 2WD results


Powered by Extreme Thumbnail Generator