Nordic Championship 1:10 Electric Off-Road - Skarpnäck, Stockholm Sweden - Day 3 - 4WD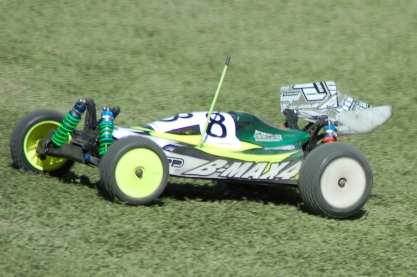 Sunday 4WD - Day 3
Jesper is in heat 3, Ulrich in heat 4 and Christer in 5 of a total of six heats with 51 participants.
Saturday evening there was two hour of free practice, as few participants took, Sunday started out with only 1 round of controlled practice, 4 rounds of qualifying and again 2 finals and 3 finals for the A final.
Jesper had in the first round of problems with interference or a bad sensorcable. A quick solution was tested before round 2, by mounting the fan on speedcontroller and a new sensorcable unfortunately it was not the right solution. To 3 round were all electronics taken from Christer´ 2WD car. It helped and Jesper got a 34th place in this round rather better than the 45-47 spot he made in the early rounds, round 4 was slightly down again and became a 42th place overall gave him a start position as 6th in the E-final.
Ulrich started out a little bad because he did a test lap crash where one of the front axle jumped out Christer made a mercy repair and put it in place before the start, but discovered that the front tower was also broken, Ulrich completed in the circumstances acceptable 25.
Second round went better with a single roll or two and became 14.
The third round was not good there were several errors and the heat ended after 8 laps with speedcontrol connetor in receiver pop off.
Last round Ulrich was on pace again and got another 14 which provided a starting place 9 in the B final.
Christer started well, had some rollovers where the car came back on the wheels and ended at a 15 place.
For the second and third round Christer tried with a set of Block Head front which was probably not the right solution it was only a 34 and 28 place.
For last round Schumacher Mini Pin where fitted again ended 15 again which unfortunately was just 2 points from the B-finals as Christer starts 2 in the C finals.

Vintage Cars
In the pit we found these vintage cars, a Yokomo, I guess it was an "Works 91", second car was a Schumacher CAT2000 from around 1994 and third was a Kyosho Optima, all three cars was competing and best result was made by the Schumacher driver Kenneth Malkusson with a second place in the C-final.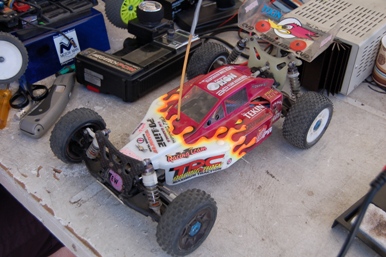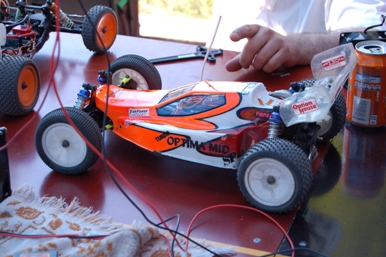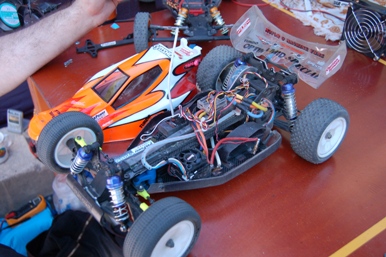 Niklas Olsson the Kyosho driver told me he all the Kyosho Optimas at home in new conditions and his goal was all his Optimas was installed with radio, speedcontroller and so on.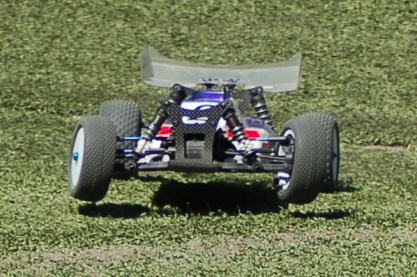 4WD Finals
Jesper ran an impressive first finals where he finished second, the last finals started well and Jesper were quickly at the top of the pack, after some aggressive overtaking attempts Jesper unfortunately was sent back in the heat and ended at a 9 place as both rounds was narrative, it was a total of 45 slight improvement from the starting location.
Christer started well and had good air both for and behind the first minutes, the car had a little trouble with nose diving on the jumps costing a few mistakes and a ranking as No. 3 last finals started badly with a roll in the first turns and a long fight back the order, ending 4 and 23 overall.
Ulrich could not do much from the position at the back of the heat and ended where he started at 9 last finale was no better with a defect after 3m29sek. Overall, it was the 19.

Nordic Championship 4WD results

Videos of 4WD Finals can be seen on Vimeo, thanks to Peter Glas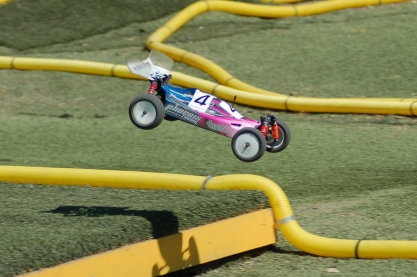 Søndag 4WD - Dag 3
Jesper er i heat 3, Ulrich 4 og Christer 5 af i alt 51 deltagere i 6 heat.
Lørdag aften var der en times fri træning som kun få deltagere benyttede, søndagen startede med kun 1 runde træning, 4 runder kval og igen 2 finaler til alle og 3 til A-finalen.
Jesper havde i første runde problemer med flip eller censor kabel, bilen kørte ikke rigtig, en hurtig løsning blev prøvet til runde 2, ved at montere blæser til regulatoren og nyt censor kabel desværre var det ikke løsningen så til 3 runde blev alt elektronik taget fra Christers 2wd. Det hjalp og Jesper fik en 34 plads frem for de 40-43 pladsen det blev til i de første runder, runde 4 gik lidt ned igen og blev til en 42 plads, samlede gav det en 6 plads i E-finalen.
Ulrich startede lidt skidt ud, da han på prøve omgangene lavede et styrt hvor en af de forreste trækaksler hoppede ud, Christer nåde lige og få sat den på plads inden starten, men opdagede at fortårnet også var knækkede, Ulrich fuldførte dog heatet på en under omstændighederne ok 25 plads.
Anden runde gik bedre med et enkelt rul eller to og blev til en 14 plads.
Tredje runde gik ikke godt der var flere fejl og heatet sluttede efter 8 omgange med et fladt Lipo batteri.
Fjedre runde var Ulrich igen on pace og fik endnu en 14 plads hvilket gav en start plads 9 i B-finalen.
Christer startede godt ud, havde en del rullere hvor bilen selv kom tilbage på hjulene og sluttede på en 15 plads.
Til anden og tredje runde forsøgte Christer med et sæt Blockhead foran hvilket nok ikke var den rigtige løsning det blev kun til en 34 og 28 plads.
Til fjedre runde blev Schumacher Mini Pin derfor monteret igen og det blev til endnu en 15 plads i runden hvilket desværre var 2 point for lidt til B-finalen så Christer starter 2 i C-finalen.

Vintage Cars
I pitten fandt vi disse tre "Vintage Cars" (ældre biler), den første en Yokomo, jeg gætter på en "Works 91", den næste var en Schumacher CAT2000 fra omkring 1994 og den sidste var en Kyosho Optima, alle tre biler deltog i løbet og det bedst resultat blev opnået af Schumacher køreren Kenneth Malkusson som sluttede som nr. 2 i C-finalen.
Niklas Olsson, Kyosho køreren fortalte at han havde alle Kyosho Optima udgaverne derhjemme og alle sammen var nye, hans mål var de skulle være køreklare og installeret med komplet anlæg.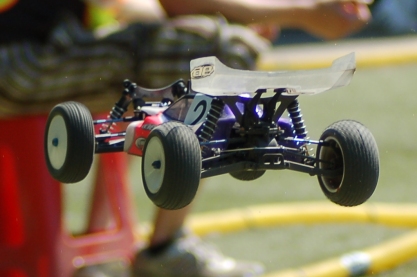 4WD finaler
Jesper kørte en flot første finalen hvor det blev til en anden plads, sidste finale startede også godt og Jesper var hurtigt i toppen af feltet, nogle lidt aggressive overhalings forsøg sendte desværre Jesper tilbage i feltet og sluttede på en 9 plads, da begge runder var tællende blev det til en samlede 45 plads lille forbedring fra startplaceringen.
Christer startede godt og havde god luft både for og bag sig de første minutter, bilen havde dog lidt problemer med at gå på næsen over hoppene hvilket kostede et par fejl og en placering som nr. 3, sidste finale startede skidt med et rul i første sving og en lang kamp tilbage i feltet, sluttede som 4 og samlede 23.
Ulrich kunne ikke gøre meget fra placeringen bagerst i feltet og sluttede hvor han startede på 9 pladsen sidste finale gik ikke bedre med en defekt efter 3m29sek. Samlede blev det til 19 pladsen.

Nordic Championship 4WD resultater

Video af 4WD Finalerne link til Vimeo, tak til Peter Glas




Powered by Extreme Thumbnail Generator